Rivierenland is the special and compelling story of our waterland. Water flows everywhere in the Netherlands. For centuries, the rivers ruled here. They had free rein, until people started to intervene. The first dikes were built about a thousand years ago. Cities rose along the banks, and agriculture and livestock developed on the fertile clay. But from time to time things went wrong: our country has a long series of floods. Protection against water remains urgent, thousands of people are working on it every day.
In this beautifully illustrated and designed book, Sunny Jansen and Martin van Lokven tell the story of living together with the rivers, of struggle, of victories and defeats, of profit and fear and of a gradually growing understanding of the immense meaning of water for our lives. and our prosperity. From dike builder to ferryman, from dredger to politician, from engineer to recreationist: they all have their say in Rivierenland. The result is a unique and versatile portrait of the equally beautiful and dangerous river landscape.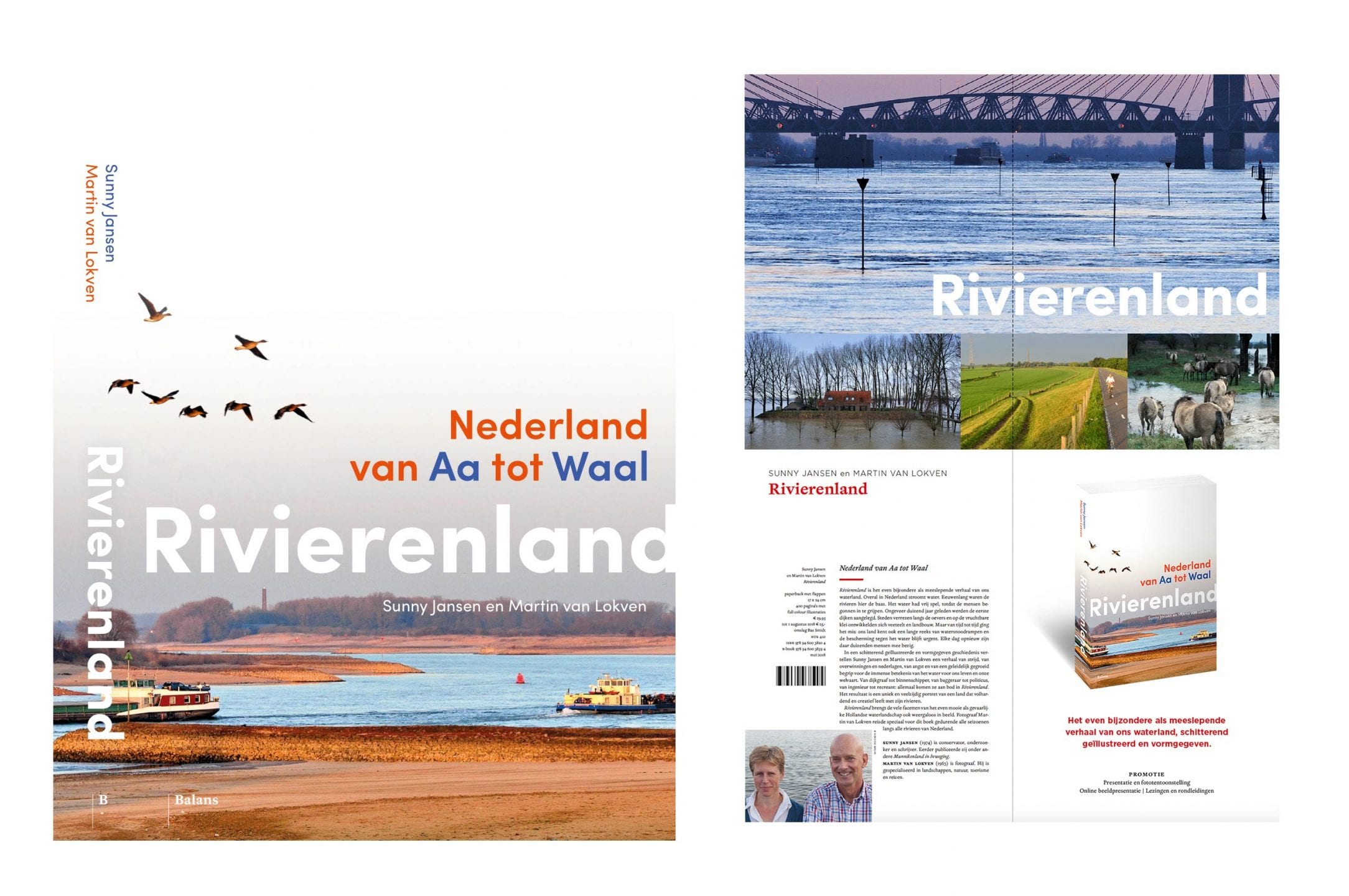 IN THE MEDIA:
Article on Stretto – magazine for art, history and music: '"Rivierenland, Nederland van Aa tot Waal", een prachtuitgave van Balans', 1 August 2018.
Review on Literair Nederland: 'Nederland komt uit het buitenland', 9 July 2018.
Review of Rivierenland on Leestafel, 21 June 2018.
Sunny Jansen and Martin van Lokven at UVandaag (RTV Utrecht) about Rivierenland, 30 May 2018. Look back here.
Review in De Gelderlander: 'Heel Nederland ís rivierenland', 26 May 2018.
An interview with Martin van Lokven about Rivierenland on radioprogram NOS Met het Oog Op Morgen. Listen back here.
"With this book you want to explore the rivers of the Netherlands."
NRC Handelsblad
"352 pages of beautiful photography, stories of fishermen to dijkgraaf and lots of information." De Gelderlander
"Colorful portrait of the Netherlands."-
Trouw
"Anyone who has never thoroughly reviewed into the question of what aspects are connected to rivers will be surprised by the variety of topics that Jansen presents in 350 pages, but also by the surprising insights."
Literair Nederland
"Valuable and very accessible book […] that is intended for every Dutch person – and certainly those who live in the river area."
Leestafel
ISBN: 9789460038204 (paperback) 9789460038594 (ebook)
Number of pages: 352
Publisher: Publishing House Balans

For sale in the bookshops and online.

Also in Shop. If wished with a personal message. Just send me an email.